Read excerpts from the Howard University Alumni Association (HUAA) February 2013 E-Newsletter.
MESSAGE FROM THE PRESIDENT
Howard History Month
Here we are just in time for another edition of Black History Month, or as those of us in the talented tenth like to call it: 'Howard History' Month.  We Bison know that when having any type of discussion about Black/African-American history, that conversation will ultimately come back to Howard University.
Whether we are talking past, present or future, there is no portion of the African Diaspora that hasn't been influenced in some way by a connection to Alma Mater.  Sure there are always exceptions to the rule, but the good news is that with over 60,000 living alumni and another graduating class this May, Howard is poised to affect history well into the next millennium.
I'd like to take this time to acknowledge our history making alumni, which of course includes you and me.  Howard History is not just Black history, it is World History and we celebrate it EVERY day of the year. 
In honor of the season, here is a roll call of some of our trailblazing Alumni. This is by no means an exhaustive list:
Supreme Court Justice Thurgood Marshall; Governor L. Douglas Wilder; author Toni Morrison; Savage Holdings LLC CEO Frank Savage; actress Phylicia Rashad; soprano Jessye Norman; producer and director Debbie Allen; Civil rights leader Vernon Jordan; Ambassador Andrew Young; Mayor Shirley Franklin;  actress Tariji P. Henson; poet Imamu Amiri Baraka; lawyer and editor Mary Ann Shadd Cary; sculptor Elizabeth Catlett; General Benjamin O. Davis, Sr. ;actor and activist Ossie Davis; and Mayor David Dinkins;
Can you name the fields where the following Alumni made history?
Bali White, David Oliver, Lori Stokes, Kellye Lynn, Hal Jackson, Kenny Lattimore, Richard Smallwood, Crystal Bailey, Ananda Lewis, Vashti Murphy McKenzie, Beth Brown, Ira Andrew Harden, Malaak Compton-Rock, The Honorable Ewart Brown, Aisha N. Brauerboy, Williams V. Bell, and Adrian Fenty
Where will YOU make history? The Time Is Now!
Chris Washington, President
HUAA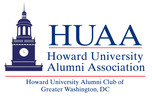 Five Students
The Howard University Alumni Club of Greater Washington DC is proud to have awarded five $1,000 scholarships to Howard University undergraduate students who demonstrated

ex

ceptional excellence in education. Congrats to them all.
Bison On The Vineyard 2012 Check Presentation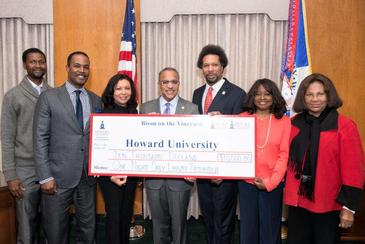 HUAA President, Chris Washington presents a $10,000

c

heck to H

oward University

President Sidney Ribeau as proceeds from Bison On the Vineyard 2012 went to support the  Library Restoration Project. In attendance L-R – El Hadji  Diagne (Department of Alumni Relations), Dr. Charles Boyd (Alumni  Trustee), Renee Higginbotham-Brooks (Trustee), President Sidney Ribeau,  HUAA President hris Washington, Shelia Marshall (BOV 2012 Co-Chair),  Nesta Bernard (VP, University Advancement and Alumni Relations).  Bison  on The Vineyard 2013 "Seventh Heaven" is scheduled for August 21st-25th.  Make your plans now to be there.
Longtime Director Recognized for Helping to Shape Careers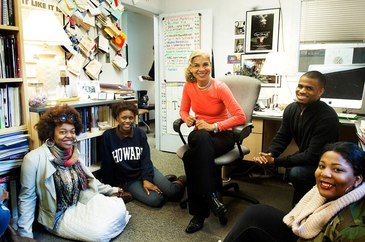 Carol Y. Dudley, director of the Office of Career Development in the School  of Communications, has been helping Howard students navigate and secure  internships and sustainable careers for more than three decades. She is a mentor, surrogate mother and as one alum notes "a shining example of  someone who has your best interest at heart."
Read more of this story and many others in the Capstone
http://www.howard.edu/capstone/jan2013/feature1.html
Click here for the full newsletter.